Happy Easter to one and all!! And what a beautiful season it's been.
This has also been a heavy couple of weeks for all students I suppose. It ain't getting any easier for me, with 2 big papers and one smaller one due next week. Unfortunately, being in a non religious university means that they don't give a damn if it's Holy week or not, they still expect people to be in class, hand in essays etc...c'est la vie.
Anyways, Matthew (my brother Jesuit and the guy with a room next to mine)and I were talking this week, as were slaving over our papers, and at one point, he just said rather bitterly "It's HOLY WEEK..I SHOULD NOT BE DOING THIS. I SHOULD BE PRAYING". Definitely a sentiment I felt as well considering how prayerful my holy week was in Wiky last year...I didn't feel as connected to the holiest season in our calendar this year. Instead, I locked myself in my room and did lots of research. The plus side of course, was having the opportunity to do discover the wonderful library at the University. Apparently, the main library at t he U of T is one of the largest in the world... but the building itself is freekish: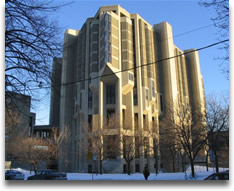 I guess you can't see it too well from this picture, but it's supposed to be some kind of giant turkey, or peacock. A monstrosity of a building in the eyes of many, but I'm not complaining. First off,
I don't need to use that library that often. The ones from the Toronto School of theology -there are maybe 5 theological libraries- serve me very well!! This means, I've never had trouble getting the books I needed for research so far...and this week, I got to spend some time in the rare books library and even took a picture of it. Quite stunning, compared to the rest of the library!! I got to spend the afternoon of Holy Thursday reading a book there -you're not allowed to take books out of the Rare books library..you have to read them there!-
But despite academia being at the centre of my life, as a Catholic (and even more so as a Jesuit), it's impossible for me to avoid the movement of holy week. Even though my prayer was not as rich as last year, I still was incredibly inspired by the services -especially the Easter Vigil one on Saturday night, which lasted almost 3 hours, and ended around midnight and was incredibly moving.-. But the most symbolic moment for me was on Good Friday at night, when we celebrated what is known as Tenebrae. In the timeline of the Triduum, -the 3 days before easter, so Holy Thursday, Good Friday and the Easter Vigil on Saturday- this is a powerful prayer, where we celebrate Christ descending into Hell, or Sheol or whatever you want to call it, and conquering death. This is not necessarily a celebration that is scriptural, but the idea of Jesus descending among the dead is part most Credes in Christianity.
I've probably celebrated this before, but I had no recollection of ever having done so...so it was a very powerful service for me. The picture I took is from behind our chapel window in our house. The way it works is that there are 7 candels that our lit on the altar. As we read various passages from the bible together, after each passage, one of the candles is extinguished....until we're in complete darkness. We stay there for a few minutes, meditating on what we've heard, on what it means to us to proclaim in our Crede every Sunday that Christ went into hell to conquer death on our behalf.
It may not seem like much, but to me this is the most extraordinary part of the hole Easter season. We contemplate darkness, so we can receive the light that Christ will bring on Easter morning. And we do need to enter the Tenebrae in order to appreciate the glory of His light even more. Of course, we don't celebrate the light till 24 h ours laster, but maybe that's the whole point. Easter gives us an opportunity to contemplate the whole passage from darkness to light over a period of time, so that we can understand that there will be tremendous darkness in our own life at times, and that we need to receive it with the hope that it won't last foreever. That Christ's light triumphs over everything...even our struggles with paper writting (-;